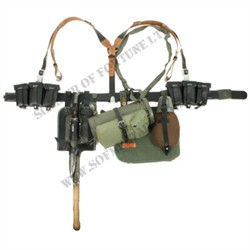 German WW2 Army and SS 98K rifle webbing equipment.
The German Armed Forces (Wehrmacht) in World War Two was made up from several services while each of the services had their own specialized equipment most of the webbing and equipment was the same design throughout all the branch of services. The colour of the webbing changed between some of the services like the Luftwaffe (Airforce) started off with blue canvas webbing. Here we have the standard webbing and field equipment in the colour that was used by both the German Heer (Army) and the Waffen SS (Armed SS) in WWII.
The standard leather and webbing load carrying system carried by a German Soldier armed with the K98 consisted of the following. The only difference between the Army and Waffen SS set is the different belt buckle.
German Black leather Belt. TG653
German Army (Heer) belt buckle. TR017
German Waffen SS belt buckle. TR136
German Leather Y straps. Shoulder harness which supports the belt. TG309
German Leather K98 ammunition pouches. TR314
German Straight handled shovel (entrenching tool) TR317
German Straight handled shovel carrier. Black leather. TR796
German Bread bag, green canvas with leather straps. TG182
German Bread bag shoulder strap. TG629
German Waterbottle with green/brown felt cover, mug and straps. TR721
German K98 bayonet and scabbard. KNF239
German K98 bayonet frog, allows the K98 bayonet to be carried on the belt. Black leather. TR730
German Gas mask tin and canvas carrying straps. TG901
German Gas mask cape bag, green bag to hold the gas cape. This bag is usually strapped to the outside of the gas mask tin. TR781
German Combat assault pack usually called the A frame and small pack. The A frame clips onto the back of the Y straps and carries the small canvas assault pack.
German Mess tins with leather strap. Usually fits onto the top part of the A frame. TR720