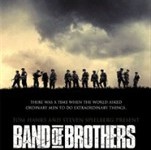 We started spplying films way back in the 1990's, here are some films that you may have seen.
Saving Private Ryan 1998.
We stamped and supplied all the US dog tags plus various American and German clothing, equipment an insignia.
Enemy at the Gates 2001
Russain Putties 2001
Tomb Raider 2001
Tiger Stripe uniforms.
Harry Potter 2001
Water proof socks for film crew.
Band of Brothers 2001
Various US and German equipment, insignia and uniforms.
We can supply uniforms, webbing, equipment and insignai for your theatre production, TV show or film, just give us a call to see what we can do for you.